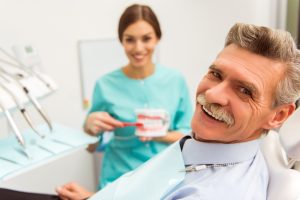 Whether you're looking for a new cereal or trying to decide what movie to watch, it's easy to get overwhelmed by the choices. When it comes to choosing the right Joplin dentist, we know patients may feel anxious about finding the best option. However, by considering a few factors prior to scheduling your first visit, you may be able to avoid a negative dental experience and keep a happy, healthy smile on your face.

Get Recommendations
Before you begin your search, start with some potential options in mind. Ask friends, family, and coworkers what they think of their dentists. If you're new to the area, you may want to ask the dentist you visited before relocating for a referral. You may also want to read reviews from their current patients to get a better idea of what to expect in the new office.
Convenient Location & Hours
While these may seem like minor details, the office location and service hours should be taken into consideration before you schedule an appointment. Start by looking at practices within a three mile radius of your home or office. Expand to five or more miles, if you don't find an office that feels right for you. Check the website or search listings for hours of operation. Try to find a practice whose appointment times will fit your schedule.
Comprehensive Services
Scheduling multiple appointments at numerous offices, juggling insurance paperwork, and taking time away from your busy schedule is a hassle. That's why it's important to find a dental office that offers a wide variety of treatment options for every member of your family.
Training & Experience
Your dentist's and dental team members' training and experience are important. Better educated and more experienced dentistry teams are able to provide higher quality care and more comprehensive dental services. That means you'll receive better dental treatments under one roof, so the services should meet or exceed your expectations and offer improved convenience.
Meet Dr. Young
At Young Family & Cosmetic Dentistry, our Joplin dentist and caring dental team offer a wide range of dentistry services to help patients achieve and maintain their healthiest smiles. One way we go above and beyond the competition is offering comprehensive dental care for every member of the family all under one roof. If you're new to Joplin or surrounding communities, our skilled dentist, Dan K. Young, DMD, invites you to give our team an opportunity to provide a better dental experience. Call our office to schedule an appointment today. We look forward to exceeding your highest expectations.