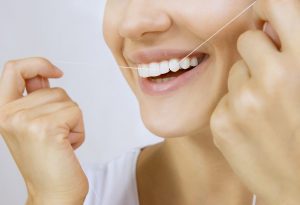 It's been a long day, and you can barely be bothered to get ready for bed as opposed to just flopping onto your sheets face first, but you somehow muster up the energy, dare we say the courage, to brush your teeth. When you're done, you find yourself in a dilemma most people deal with every night, "Should I floss, or just skip it?" Many people opt out, believing it isn't really an important part of their dental routine. Is this true? According to your dentist in Joplin, flossing regularly is just as important as brushing your teeth, and here's why…
Beyond the Brush
Brushing your teeth is absolutely essential to maintaining your long-term oral health and making sure you have a confident smile (and fresh breath!) whenever you face the world, but sadly, it just isn't enough.
Your toothbrush isn't able to reach every single surface in your mouth, particularly the areas between your teeth and below the gum line. These are two of the most common places for plaque and tartar to accumulate, which over time, can lead to tooth decay, cavities, and gum disease. Your mouth has many tiny, hard to reach surfaces, and you won't get to them all without flossing.
In fact, according to research, whenever a person doesn't floss, they are leaving about 40% of their teeth completely uncleaned!
Your Overall Health
Consistent flossing is one of the most important things you can do to prevent gum disease, which is the most common dental problem in the entire world. While early symptoms are quite mild, over time, it can develop into something that is very damaging.
Gum disease is actually the leading cause of adult tooth loss here in the U.S., and according to an ever-growing mountain of research, it's also a huge risk factor for a number of serious systemic diseases. People with gum disease have been shown to be up to twice as likely to suffer from diabetes, heart disease, dementia, and even pregnancy complications.
Around the world, gum disease is a very serious health problem, and you can make sure it's never an issue for you just by flossing nightly!
Quick Flossing Tips
Floss at least once a day. You can do it either before or after you brush your teeth in the evening, the important thing is that you do it at all!
Use about 18 inches of floss every time you do it, using a fresh bit of string between every tooth.
Be sure to floss between all of your teeth, especially those in the back.
Move the floss to clean your teeth below the gum line, but be gentle so you don't injure your gums.
Your gums may bleed slightly if you haven't flossed that much in the past, but if this persists for more than a week, be sure to contact your dentist in Joplin right away, as you probably have gum disease.
Flossing takes less than a minute a day, and it can literally help you save hours in the dentist's chair and thousands of dollars in avoidable treatment. Sounds like a minute worth taking, right? We think so, too!
About the Author
Dr. Dan K. Young has practiced family, cosmetic, and restorative dentistry for nearly two decades, and he continues to refine his skillset every year through rigorous continuing education. At his practice, he strives to provide the most advanced dental care available today so his patients always have a reason to smile. To learn more about how you can prevent gum disease and supercharge your home routine, contact him today.