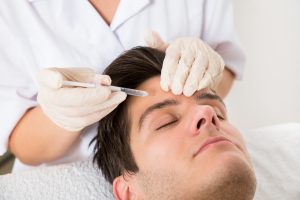 Are you considering treatment with Botox Cosmetic or dermal fillers? Many patients don't realize that the dentist may be a great provider to offer these services. Dentists have advanced training in the way the oral and facial structures work, making them the ideal practitioners to administer treatments using these two cosmetic solutions that ease the appearance of fine lines and wrinkles and show off your beautiful smile. Whether you're adding one of these treatments to your cosmetic dentistry plan or receiving them independently, we recommend talking to your dentist about Botox and dermal fillers during the treatment planning process. In this post, we'll talk about some of the reasons patients consider receiving Botox and dermal filler treatments from the dentist.
Botox & Dermal Fillers in Your Smile Makeover Plan
When you invest time and money in a smile makeover plan, you want to look your very best after treatment. You've created a beautiful, youthful smile, so it only makes sense that you would want to make sure your whole appearance reflects these results. Botox Cosmetic and dermal fillers are a great addition to any cosmetic dentistry makeover plan, creating a gorgeous frame for you enhanced smile. These treatments are quick and painless. We can typically perform them over a lunch break, delivering results that last for months.
Pain Relieving Botox Services to Keep You Smiling
Do you struggle with pain that keeps the smile off your face?  Botox Therapeutic treatments may be just what you need.  People who suffer with facial pain from bruxism (clenching and grinding of teeth), temporomandibular joint (TMJ) dysfunction or chronic headaches like migraines, can get much needed relief from Botox treatments.  These quick, painless injections decrease unnecessary muscle contractions and relieve pain caused by strained muscles associated with bruxism, TMJ dysfunction or migraines.  Relief from pain will help turn your frown upside down!  The added bonus of smoother more youthful appearance from relaxed facial muscles treated with Botox will give you even more reasons to smile!
Meet Dr. Young
Your Joplin cosmetic dentist, Dan K. Young, DMD, offers both Botox Cosmetic and Therapeutic as well as dermal filler treatments at Young Family & Cosmetic Dentistry. Dr. Young has completed advanced training that allows him to safely and effectively administer these treatments to improve your appearance, relieve pain, and put a smile back on your face. If you're interested in learning more about Botox, dermal fillers, or any of our treatment options, call to schedule your cosmetic dentistry consultation in our state-of-the-art Joplin dental office today. We look forward to helping you get the picture-perfect smile of your dreams.