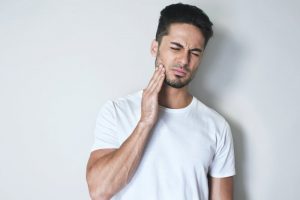 It's a nice, fall afternoon, and you're at Arrowhead Stadium watching the Chiefs battle on the gridiron. While sipping your favorite beverage, you chump down on a piece of ice and notice a strange feeling. As it turns out, you broke a tooth and suddenly have a dental emergency on your hands. What should you do? Read on to learn from your emergency dentist in Joplin what to do for this situation and other dental emergencies.
What's Considered a Dental Emergency?
A dental emergency would be any situation where your oral health is suddenly compromised or an existing situation reaches a crescendo. As a result, you may experience pain or the inability to function normally. When this happens, it's important to know what to do.
How to Respond to Any Dental Emergency
No matter what type of dental emergency may occur, here's what you should do:
Assess and Remain Calm – Once you first get the idea that you may have a dental emergency, the first thing you should do is assess the situation. If it appears to be an emergency, it's very important to not panic. That's because you'll need a clear-thinking mind to make the correct next steps.
Contact Your Emergency Dentist – After you've made an initial assessment, you should reach out to your emergency dentist and provide details about what has happened. A trained staff member will then let you know how to proceed.
What are Some Common Dental Emergencies?
A dental emergency can happen when you least expect it to, but it helps to know what some of the more common types are so you can act accordingly:
Broken Tooth – You may notice pain after a tooth is initially broken due to the exposed nerves. You can gargle with salt-water to protect against infection and be sure to avoid chewing on that side of your mouth until you can be seen by your emergency dentist.
Severe Tooth Pain – Severe pain may be a sign of tooth decay and infection. You can apply ice and take ibuprofen to reduce the pain.
Oral Bleeding – For oral bleeding, you can gently bite down on a cotton gauze. If the bleeding doesn't subside within 10 minutes, then you should head to your local emergency room.
Lost/Damaged Crown – If you have a lost or damaged crown, you can carefully re-apply it using dental cement, but keep in mind that this is only a temporary solution.
Partially Dislodged Tooth – A partially dislodged tooth should be treated similarly to one that is broken. If there is any pain, you can take ibuprofen for temporary relief.
Fully Dislodged Tooth – If a tooth is knocked out, grab it by the crown and carefully place it in its rightful spot. You'll then need to take precautions (keep gentle pressure on it) to prevent it from falling back out before you can be seen by your emergency dentist.
Jaw Injury – If you suspect that your jaw is broken, you should let your dentist know and immediately head to your local emergency room to seek treatment.
Dental emergencies are no fun, but by referring to the above guidelines and seeking the help of your local emergency dentist, you can soon be back to normal.
About the Author
A graduate of Southern Illinois University School of Dental Medicine, Dr. Dan K. Young has nearly 20 years of experience practicing dentistry. Throughout his dental career, he's remained steadfast about expanding his knowledge, which is why he's attended such institutions as the Nash Institute for Dental Learning and others. Dr. Young's advanced training and vast experience allow him to restore patients who've suffered from dental emergencies to normal. He can be reached for more information through his website.