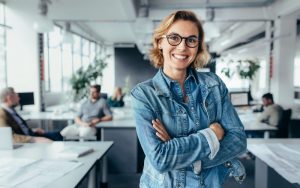 Taking care of your teeth during work hours is more important than you think. Have you ever been snacking at work and gotten a piece of chip or popcorn stuck in your teeth? Maybe you went out to lunch and got back feeling self-conscious about your breath? Keeping your mouth clean at work can eliminate these problems and make sure your smile is as healthy as it can be. Keep reading to learn how to take care of your pearly whites at work from your dentist in Joplin.
Have Your Brush, Toothpaste, and Floss at the Ready
It may seem weird at first but having dental supplies in your desk drawer or purse can save your teeth during the day. Brushing and flossing after each meal will ensure your teeth are clean of plaque and bacteria, plus you can get rid of any leftover food in your mouth trying to hang around from the meal before. If you don't like using floss, or are self-conscious flossing your teeth at work, use pre-strung flossing picks. These are easy to use and super discreet.
If you need more reason to keep oral healthcare supplies at work, a clean and healthy smile can boost your confidence for your upcoming meeting with your boss, too.
Water is Your New Best Friend
Drinking water throughout the day isn't only healthy for your body, but it will help your teeth in many ways as well. Drinking water prevents staining, plaque buildup, and cavities from forming. Water is also a natural way to clean and rinse out your mouth after eating.
Watch Out for Junk Foods
If your office has a vending machine or snack area, you may be familiar with the greasy potato chips or sticky candy they offer. The main ingredient in these types of snacks is sugar. Sugar and salt can damage your teeth and cause canker sores.
To protect yourself against junk foods, bring your own healthy snacks to work. When you get hungry, you can turn to a snack that's good for your body and teeth.
Being prepared can put your mind at ease. If you have bad breath or something stuck in your teeth, your oral healthcare supplies kept at the office will come in handy. Next time you come back from lunch break only to be hit with an unexpected afternoon meeting, you'll be ready thanks to your new at-work oral hygiene routine!
Meet the Dentist
Dr. Dan K. Young gets to know his patients to provide the best personalized care possible. Along with the various services and treatments he has to offer, he will also give you tips and advice on how to keep your smile healthy and beautiful. He currently practices at Young Family & Cosmetic Dentistry where he can be contacted through his website or by phone at (417) 781-3440.