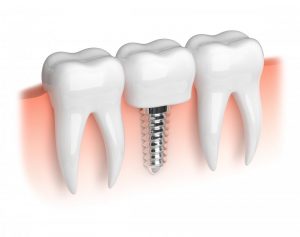 Do you have a denture that slips or slides when you laugh or talk? Does it make it harder to chew, causing you to avoid some of your favorite foods? While dentures are a great replacement option, many are turning to dental implants in Joplin because they look and feel the most like natural teeth. Read on to discover how dental implants can improve the quality of your life!
What Are Dental Implants?
Dental implants are tiny titanium posts that are surgically planted in your jaw to provide a sturdy support for restorations (false teeth). They can be used for the attachment of dental crowns, or they can be attached to full or partial dentures.
Dental implants are the only tooth replacement option that mimics the way your natural teeth emerge from your gums. What's more impressive is that they are the only replacement solution that preserves and strengthens the jawbone. When you loose teeth, your jaw loses some of the stimulation that your tooth roots once provided. Because dental implants actually integrate into the jawbone, they provide the necessary stimulation that your bone needs to thrive.
How Can Dental Implants Improve the Quality of My Life?
Dental implants will give you many benefits, but here are some of the most popular:
Boosted Confidence
Whether it's to complete your smile or a way to securely attach your dentures, dental implants provide a natural feeling solution. This way, you can talk, laugh, smile, and eat all of your favorite foods with the confidence of knowing that you have a healthy and functional smile.
Secured Dentures
If you're missing enough teeth that you need dentures, dental implants can support your prosthesis, so it doesn't move or shift in your mouth. You can simply click your denture in and out of your strategically placed dental implants.
Durability
Dental implants are the longest lasting replacement by far. With proper dental care, the implant itself can last a lifetime. Plus, if you receive dental crowns to go with your dental implant, their porcelain material is much harder to stain compared to your natural teeth.
Health
As mentioned above, dental implants provide unique health benefits like bone preservation. They also help to keep your remaining natural teeth from drifting or shifting into misalignment.
Does it sound like dental implants are right for you? Contact your dentist to get started on a healthier, more beautiful, and complete smile.
Meet the Dentist
Dr. Dan K. Young takes pride in providing quality dentistry to the Joplin community. He has additional experience and training in the restoration and placement of dental implants. He currently practices at Young Family & Cosmetic Dentistry, and he can be contacted through his website or by phone at (417) 781-3440 for any questions that you may have.