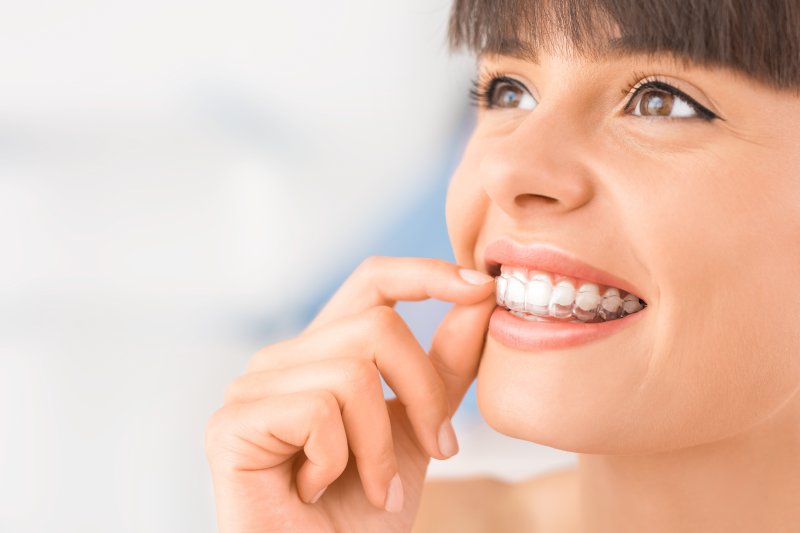 You've lived long enough with your bite woes, and now you want straight teeth and a beautiful smile. You're aware of the option of traditional braces and its effectiveness, but you're not a fan of wearing metal brackets and wires in your mouth. Thus, you're wondering, "Is there a better way?" Your dentist in Joplin says Invisalign is the treatment method you've been looking for. Read on to learn why it's your best option!
How the Invisalign Process Works
Treatment with Invisalign delivers the same results as traditional braces but in a much more convenient way. Instead of using cumbersome metal components to adjust teeth, the Invisalign process consists of a series of clear plastic trays that are custom-designed by your dentist to fit your specific smile needs.
The process starts with digital X-rays being captured. Then, once a full smile plan is created, it's sent to a trusted, Invisalign-certified lab that will fabricate the trays.
When they arrive at your dentist's office, you'll be invited back to retrieve the full Invisalign treatment set, and you'll be given special instructions on how to get the best results.
The Advantages of Invisalign Treatment
In addition to providing a more aesthetically-pleasing form of bite correction, here are some of the other benefits of choosing the Invisalign method:
Normal Oral Hygiene Maintenance – You won't have to make any adjustments to your current oral hygiene routine. Since the trays are removable, you can brush and floss as you normally would.
No Diet Changes Required – There's no need to make any changes to your diet, either. As long as you wear your trays for at least 20 hours a day, you're free to remove them to eat and drink.
Shorter Treatment Time – While it can take up to 36 months to fix your bite with traditional braces, you can have straight teeth in as little as 12 months with the Invisalign method.
Less Visits – You'll also save time throughout the treatment process because you won't have to visit every four weeks for adjustments, which is the typical schedule for people who are fitted with traditional braces.
To find out the exact time it will take to correct your bite, you'll need to visit your dentist, though.
Straightening Your Teeth for Better Oral Health
When orthodontic treatment is discussed, it's often from the standpoint of appearance. In reality, though, addressing bite woes is vital to your oral health.
For example, it can help to prevent issues like teeth grinding (bruxism) and TMJ disorder, which refers to the painful inflammation of the joint that opens and closes the jaw.
So do yourself a favor, and contact your local dentist to get on the path to a beautiful smile with the aid of Invisalign in Joplin!
About the Author
Dr. Dan K. Young earned his dental degree from Southern Illinois University School of Dental Medicine, and throughout his 20-year career, he has stayed on the forefront of the latest dental techniques and procedures. As part of his commitment to helping his patients achieve the smile of their dreams, Dr. Young has taken several hours of Invisalign courses. He provides orthodontic treatment with Invisalign at Young Family and Cosmetic Dentistry, and he can be reached for more information through his website.