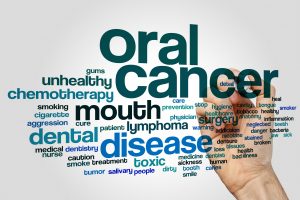 According to the National Institutes of Health, nearly 100,000 Americans are currently living with oral cancer and another 37,000 men and women will be newly diagnosed this year. Even if you do not smoke or chew tobacco, you can develop the disease that claims 8,000 American lives each year. For this reason, it is important to know the warning signs of oral cancer and understand what steps to take to ensure successful treatment. April is Oral Cancer Awareness Month, so there is no better time than now to discuss oral cancer and learn why visiting a dentist in Joplin is so important.
What is Oral Cancer?
Cancer occurs in the body when there is an uncontrolled division of abnormal cells. Oral cancer is a form of the deadly disease that occurs in the mouth and part of the throat – including the gums, lips, tongue, inside of the mouth, tonsils, esophagus and middle region of the throat. According to the National Institutes of Health, oral cancers are the sixth most common cancers in the world.
Early signs of oral cancer include:
Red or white patches in the gums, tonsils or lining of the mouth
Swelling in the neck
Ear pain without any loss of hearing
The feeling that something is caught in the throat
Persistent bad breath
Difficulty chewing or swallowing
Difficulty moving the jaw or tongue
How to Detect Oral Cancer Early
Early detection of oral cancer is key to successfully treating the potentially deadly disease. Indeed, according to the National Institute of Dental and Craniofacial Research, the five-year survival rate for patients diagnosed early with oral cancer is 75% — however, the rate drops to only 20% for those diagnosed after the cancer has spread.
Fortunately, your dentist will perform an oral cancer screening as part of every routine dental checkup. This typically includes:
A visual examination inside your mouth for signs of oral cancer
A manual examination for unusual bumps and lumps on your neck, face and head
A conversation about your exposure to oral cancer risk factors (e.g., tobacco use)
Asking questions to help identify nonvisible symptoms of oral cancer (e.g., hoarse voice)
How Often Should I See a Dentist?
The American Dental Associations recommends seeing a dentist every six months for a routine dental checkup. A biannual oral exam and professional cleaning is critical not only to detecting oral cancer, but also keeping your teeth clean and free from tooth decay.
Preventive dental care is key to achieving and maintaining a healthy lifelong smile. Do not hesitate to call a dentist in Joplin to learn more about your next oral cancer screening!
About the Author
An active member of the Southwest Missouri Dental Society, Dan K. Young has been screening patients in Joplin for oral cancer for nearly 20 years. The Illinois University School of Dental Medicine graduate utilizes state-of-the-art technology to deliver quality dental care to every patient that visits Young Family & Cosmetic Dentistry. For more information regarding oral cancer treatment and prevention, visit the Young Family & Cosmetic Dentistry website or call Dr. Young at 417-781-3440.