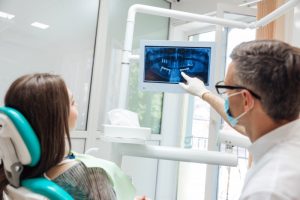 Many diseases and illnesses will cause symptoms in your mouth before anywhere else on your body. That means your dentist in Joplin could be the first person to catch a deadly disease in its early stages while it's still easy to treat. You can protect yourself by learning about how your mouth is connected to your overall health. Get the facts about the importance of your gums, teeth, and mouth from your dentist by reading on.
The Connection Between Your Oral and Overall Health
Your body has an elaborate microbiome that hosts tens-of-thousands of bacterial species—some good, some harmful. You can help control the number of bad bacteria by keeping up with different hygiene practices like brushing and flossing daily. But without proper care, your mouth can become a breeding ground for bacteria and cause infections like gum disease.
Gum disease, or periodontitis, has been connected to other illnesses such as heart disease, cancer, and diabetes. When bacteria are left to multiply, they can release toxins, get into your bloodstream, and travel to other parts of your body like your heart and lungs.
Illnesses Associated With Your Mouth
Recent research has shown that oral illnesses can contribute to various diseases throughout your body. It has also unveiled links to diabetes, osteoporosis, and Alzheimer's. Other conditions that have been connected to your oral health include:
Heart Disease: Research has suggested that clogged arteries and strokes are linked to the inflammation caused by harmful oral bacteria. Patients with gum disease are at a greater risk of experiencing a fatal heart attack. Once harmful oral bacteria get into your bloodstream, it can cause damage and tiny blood clots that affect oxygen-flow.
Premature Birth and Induced Labor: Pregnant women with gum disease could be at risk for giving birth early due to increased levels of biological fluids that induce labor.
Cancer: Patients with gum disease have been found to be more likely to develop kidney, pancreatic, and blood cancers. The statistics break down as follows: men with gum disease were 49% more likely to develop kidney cancer, 54% more likely to get pancreatic cancer, and 30% more likely for blood cancers.
Because of these potential connections, be sure to let your dentist know if you're taking any kinds of medications. Discussing your family health can also help them examine and treat you accordingly.
Protecting Your Health and Reducing Your Risk
Fortifying your oral and overall health is easier than you think. By brushing twice each day, flossing, and visiting your dentist for a checkup and cleaning every 6 months, you can reduce your risk. Each time you visit your dentist, they'll inspect your mouth for any abnormalities and can request additional testing if necessary. Try avoiding bad habits that are linked to developing gum disease such as tobacco use.
Whether you're looking to maintain an aesthetically pleasing smile, or avoid illnesses connected to your overall health, scheduling your checkup and cleaning is the best solution. Investing in your overall health means more than just eating healthy and working out, it also means taking care of your smile!
About the Author
Dr. Dan Young has been providing his patients with healthy smiles for over 2 decades. With years of advanced training for treatments such as Invisalign, sleep apnea, and full mouth reconstruction, he has extensive knowledge to offer his patients. Whether you're looking for a basic checkup and cleaning or dental implant treatment, his vast knowledge makes his patients feel great about the quality of care they're receiving. For any questions or to schedule an appointment, visit his website or contact 417-847-1443.