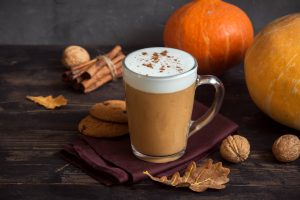 The common saying goes "You are what you eat!" – but what about the drinks you consume on a daily basis? Most people know they should drink water to stay hydrated and that milk is a good source of calcium. Less obvious, perhaps, is the effect that many popular drinks have on one's health, including their oral health. In today's blog post, a dentist in Joplin breaks down how some of the most popular beverages – from red wine to sparkling water – can adversely affect your teeth.
Pumpkin Spice Lattes
File this one under "sad, but true": the autumn season's trendiest drink can wreak havoc on your teeth if consumed frequently. While the popular hot beverage is great for keeping you warm during this time of year, it is also loaded with sugar, which can contribute to tooth decay. In fact, according to one newspaper report, a medium pumpkin spice latte from a well-known national chain contains roughly 50 grams of sugar. That is the entire daily limit recommended by the Food and Drug Administration (FDA) – in just one drink!
Red Wine vs. White Wine
Do you enjoy a glass of wine with dinner? Then you may be interested to know that red wine is slightly better than white wine for your teeth. Although dark red wines can stain teeth over time, white wines are actually more acidic and therefore break down tooth enamel faster. When tooth enamel wears away, it reveals the inner layer of yellow dentin, causing your smile to appear discolored.
One additional tip: when choosing wines, opt for a drier variety. Dry wines have less sugar than sweet wines and therefore are less likely to contribute to tooth decay.
Sugar-free Sparkling Water
Sparkling water, an increasingly popular type of carbonated beverage, offers fizzy thirst satisfaction without all the cavity-causing sugar of traditional sodas. However, many varieties of sparkling water can also be very acidic, meaning they can wear down tooth enamel. For this reason, the American Dental Association recommends swapping sugary soda for sparkling water – but not choosing sparkling water in place of regular, fluoridated tap water.
Replenishing Sports Drinks
If you play recreational sports or frequently exercise at the gym, you may frequently want a sports drink to rehydrate and replenish your electrolytes afterward. While these drinks can be helpful after extreme exertion, be careful not to casually consume them too often. Not only do many popular sports drinks contain elevated levels of sugar, but a recent study published in the Journal of the American Dental Association found that a majority are acidic and "highly erosive" toward teeth.

Now that you know more about the effects these popular beverages can have on your smile, you can make more informed decisions about what you consume on a daily basis. Cheers to that!
About the Author
Dr. Dan K. Young provides comprehensive dental care with a friendly touch to residents of Joplin and surrounding communities. An active member of the Southwest Missouri Dental Society, he has completed numerous continuing education courses in advanced dentistry, including courses in dental implants and full mouth reconstruction. For more preventive oral care tips, visit the Young Family & Cosmetic Dentistry website or call 417-781-3440.