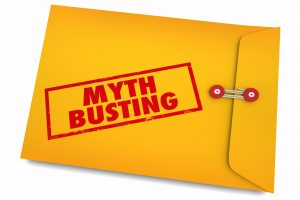 Do you choose diet sodas over the classic varieties to avoid cavities? Do you feel confident you have healthy teeth because you see pearly whites when you smile in the mirror? Common misconceptions about oral health can lead people to believe they are making healthy choices when the truth is actually a bit more complex. To help you discern between fact and fiction regarding your oral health, a dentist in Joplin pulls back the curtain to reveal the truth behind 5 common dental myths.
Myth #1: White Teeth = Healthy Teeth
Just because your smile appears bright and healthy does not mean that your teeth are automatically in good shape. Tooth decay and infections can sometimes develop inside teeth and are difficult to detect with the naked eye. This is one reason why it is so important to visit a dentist in Joplin every six months for a routine dental checkup. Not only can dentists spot early signs of dental trouble, but they can utilize X-rays to detect otherwise invisible problems.
Myth #2: Braces are Just for Kids
While many teenagers and school-aged children undergo orthodontic treatment to straighten their teeth, adults can often benefit from braces as well. The good news is that getting braces no longer automatically means unsightly metal brackets and wires in your mouth. Instead, removable clear braces systems such as Invisalign can discreetly straighten teeth without compromising your appearance.
Myth #3: Bleeding Gums when Brushing is Normal
If you notice blood mixed with the toothpaste that you spit into the sink when brushing, it could be a sign that you have gingivitis, the earliest stage of gum disease. Gingivitis, which is caused by the bacteria in plaque and tartar, also frequently causes inflammation and bad breath. If left untreated, gum disease can cause permanent damage to your oral health and even lead to tooth loss.
Myth #4: Diet Sodas are Better for Teeth
While diet sodas do not have the high levels of sugar that cavity-causing bacteria love, you should still consume them in moderation to preserve your smile. Why? Fizzy diet sodas are often very acidic and over time can wear down your tooth enamel, potentially leading to cavities, sensitive teeth or even tooth loss. For a healthy smile, nothing beats a refreshing glass of water or milk.
Myth #5: Baby Teeth Don't Require Care Because They Will Fall Out Anyway
Baby teeth are bound to fall out at some point, so why bother brushing them every day? For the simple reason that without proper oral hygiene, an infant can still develop painful toothaches or infections. In addition, a child's future permanent teeth may not grow in fully or correctly if they have damaged baby teeth. Set your child on the path to a lifelong healthy smile by brushing their teeth twice a day and scheduling regular visits to a pediatric dentist.
Hopefully, pulling back the curtain on these 5 dental myths helps you make informed decisions about how to take care of your smile. For more dental health myth-busting, contact a dentist in Joplin today!
About the Author
For close to 20 years, residents of Joplin and surrounding communities have turned to Dr. Dan K. Young to meet all their oral care needs. The proud graduate of the Southern Illinois University School of Dental Medicine stays up to date on cutting-edge dental technology and techniques by completing numerous continuing education courses each year. Patients new and old can contact Dr. Young by visiting the Young Family & Cosmetic Dentistry website or calling 417-781-3440.