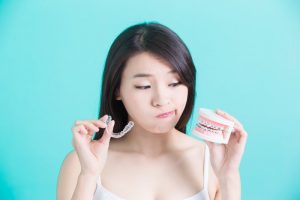 What's holding you back from getting straighter teeth? Some people worry about how uncomfortable or difficult to clean traditional braces can be, and others wonder how a mouth full of metal might influence their confidence at work or on a date. With Invisalign in Joplin, there's no reason to put off getting the more confident smile you've always wanted! But do these clear, removable alignment trays really work as well? Here are the top four advantages that Invisalign can give you that traditional braces can't.
No Brackets or Wires
Invisalign alignment trays are made of durable, clear plastic, which means they're almost invisible as they straighten your teeth. In your day to day life, many people may not even realize that you're wearing them! This is especially great news for adults who want straighter teeth without worrying about how a mouthful of wires and brackets might impact their dating life or favorite hobbies.
A Comfortable Experience
Any process to straighten your teeth will naturally cause a little soreness. However, Invisalign patients report less discomfort than those with traditional braces. Additionally, the Invisalign process doesn't have any sharp brackets or poking wires. Instead, the aligners are digitally created for a precise fit with no protrusions that can cause irritation.
Healthier Teeth
Traditional braces can easily trap food in places that are difficult to clean, which can cause cavities. Invisalign trays are removable, making them easy to clean and care for. You can just remove them before eating and pop them back in after a quick brush to clear off any remaining food particles. Removing them as you brush your teeth twice a day ensures that bacteria can't build up anywhere out of reach.
Less Time Spent at The Dentist's Office
With traditional braces, you'll need to regularly visit your orthodontist or dentist to get them adjusted. Your personalized series of Invisalign alignment trays are all digitally created from start to finish. Not only does this give you predictable results, but it means that adjusting your smile can be as quick and easy as using the next set of aligners every two weeks. You'll still need to go in for appointments so your dentist can evaluate your progress and give you the next few sets of aligners, but these visits are generally much shorter and easier than adjusting traditional braces. Invisalign lets you spend less time in your dentist's office and more time enjoying your smile!
Invisalign can offer you so much more than traditional braces can. You don't have to wait any longer to get that straighter, healthier, and more confident smile you've always wanted!
About the Author
Dr. Dan K. Young is a preventive, restorative, and cosmetic dentist based in Cassville, MO. He is a graduate of Southern Illinois University School of Dental Medicine, the Nash Institute for Dental Learning, and the Dawson Center for Advanced Dental Study. He has completed numerous Invisalign courses to help his patients enjoy happier, healthier, and straighter smiles. If you'd like to know more about Invisalign, he can be contacted via his website or at (417) 781-3440.