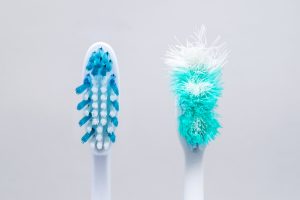 When was the last time you took a close look at your toothbrush? Even though we use it twice a day, most of us don't take the time to inspect these cleaning devices very often. However, a dirty, worn-down toothbrush can't keep your teeth clean! What's more, using it past its prime could end up causing your oral health more harm than good. Read on as your Joplin dentist explains how, as well as a few tips on how and when to replace your toothbrush.
The Average Lifespan of a Toothbrush
Your toothbrush may not come with an expiration date, but it certainly loses its effectiveness over time. The American Dental Association has thoroughly studied the average lifespan of toothbrushes and have concluded that they should be replaced:
Every three to four months, or…
As soon as the bristles become discolored or frayed, or…
After you've recovered from a cold, the flu, or other contagious sickness.
Consequences of Using an Old Toothbrush
Why do you need to replace your toothbrush so often? Continuing to use an old one can:
Allow plaque buildup: Studies show that frayed bristles leave behind a considerable amount of plaque and bacteria, even after brushing for the recommended two minutes.
Damage soft tissues: The bristles will begin to detach from the brush over time. If one becomes stuck between your teeth and gums, it could cause sores, irritation, or infection.
Lead to bad breath: Using a toothbrush with old bristles can easily reintroduce previously removed plaque, bacteria, and food particles, leaving your mouth dirtier than before!
Tips for Choosing A Toothbrush
Traditional manual toothbrushes are a tried and true tool for cleaning your teeth. They are convenient, portable, and extremely easy to use. Look for an option with soft bristles, a manageable handle, and a head that can easily reach all your teeth.
Modern electric toothbrushes use self-rotating bristles to clean your teeth for you. They can include a variety of extra helpful features like brushing modes, sensors, and timers. Always choose a product with the American Dental Association's Seal of Approval from a trusted brand. It's also important to remember that you'll need to replace the bristled head just as often as a traditional toothbrush.
Regularly brushing your teeth is your number one defense against almost every oral health issue, so make sure you're doing it right! Keep your smile happy and healthy with a clean, new toothbrush every few months.
About the Author
At Young Family & Cosmetic Dentistry in Joplin, MO, we want to help you achieve so much more than a pretty smile. Dr. Dan K. Young is dedicated to improving your overall health and your quality of life with a strong, healthy smile that lasts a lifetime! He has years of additional training at prestigious institutions in advanced topics like cosmetic dentistry, full mouth reconstruction, and the utilization of cutting-edge dental technology. Whether you need help getting your oral health on track or simply picking a new toothbrush, he'd be happy to help you at his website or at (417) 781-3440.